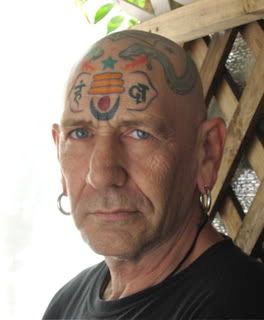 https://www.youtube.com/watch?v=KMB8Lslegmc
https://www.youtube.com/watch?v=1DmQygllvVM
http://www.youtube.com/watch?v=bWLqu5DWtbw
http://www.youtube.com/watch?v=jtiWFkyvh4o
http://www.youtube.com/watch?v=J__kLNLIPpA
http://www.youtube.com/watch?v=P7tlg_HiZsc
Wants are neurotic,
needs are necessary.
*
*
If you didn't ask for what you don't need you'll always have what's necessary.
*
*
The waiter said, "I've been putting it off & putting it off but in the end I had to come & ask you if you would like some procrastinating sauce with your meal?"
*
*
As a child, I was shunned by society. I saw it as a loss. Now, I see it as my gain.
*
*
The unknown
gives no
warning.
*
*
It's hard to tell
the difference
between a raving lunatic
& an Enlightened Being.
I tattooed the Truth on my forehead.
Am I an enlightened Being
or a raving lunatic?
You decide, it's your life.
*
*
Recognize you,
recognize me.
I come from
the Silence
to set your free.
*
*
See yourself in others.
See others in yourself.
Without that, there is
no such thing as
empathy.
Without that, it's merely
feeling sorrow.
*
*
People today are no more than food for the corporations. What are the corporations going to eat when the people are gone? This is a symptom of a dog-eat-dog society.
*
*
There are 3 things in life that you can be sure of; Death, Taxes & Guru Om. You can be sure the taxman isn't going to forget you. Neither am I.
*
*
When the Universe supports you,
you are obligated to reciprocate.
This Planet supports you.
How would you like to reciprocate?
When people don't support
then reciprocation is
demanded
& the cost is high.
*
*
Truly free people
do not do
what they want,
they do
what is
necessary.
*
*
The unknown
gives no
warning.
*
*
Death
to a slave
is freedom.
*
*
Rights are like muscles,
use them or lose them.
First, know your rights,
then exercise them.
*
*
Weaken the American Constitution &
the citizens will suffer from
weak mental & physical health.
*
*
The reason the constitution
is being eroded away is
because of societies weakness.
Life has become too easy.
*
*
Freedom is
something one lives,
not brags about.
*
*
Before one can live freely,
one has to destroy
outmoded ideas & concepts.
*
*
Destruction
always
precedes
Freedom.
*
*
You can only be free of what you are aware of,
otherwise, you're just living in a prison
that your senses can't see or feel.
*
*
Supposedly, the terrorists are going to invade America & take our freedom away from us. If that's the case, they had better do it soon or there won't be any freedom left for them to take.