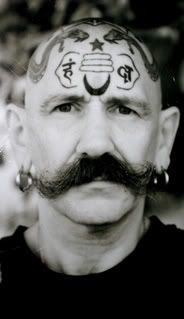 http://www.youtube.com/watch?v=P7tlg_HiZsc
http://www.youtube.com/watch?v=bWLqu5DWtbw
http://www.youtube.com/watch?v=jtiWFkyvh4o
http://www.youtube.com/watch?v=J__kLNLIPpA
To me, the Truth is always simple.
It's the complicated mind
that makes it appear not so.
Too big to fail becomes
too big to survive.
Ask the giants.
I AM
a one-man-show.
I don't collect
disciples.
The buck stops with me.
It's the greatest
response there is.
The atheists are my
greatest supporters.
Their denial of
Gods' existence
keeps me alive.
For life to be as it is on this Planet, what must God be imagining? After all, Did He not create man in His own image?
The only way to ease the
craving for identity is;
take your identity
from the Universe.
If the lifetime of a man is but the blink of an eye then 15 minutes of fame is not long, is it?
You will find security in the Unknown.
The known is always changing.
Not much security there, is there.
Were people to be
at Peace with themselves,
war would not exist.