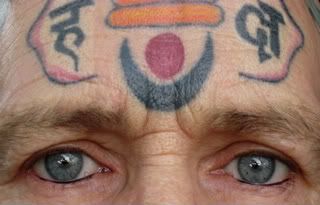 People create their own problems by identifying with the 'good' things that their mind creates or conversely dis-identifying with the 'not so good things'. You are either responsible for all of it or none of it. You cannot have it both ways. You are either awake or asleep, enlightened or ignorant. There are no half measures.
You're only
a person
if you take it
personally.
I don't talk to persons.
I talk to ones
who don't come & go.
Advance
your
spark.
I live
at
basic
minimum.
In the middle,
every moment
is a peak moment.
When you're living life
there's nothing to look
forward to,
or conversely,
nothing to
look backwards for.
The Inner Pulse,
the Absolute,
at some stage,
wants to know itself.
(That's where you come in Yorky Mate!)
In order for
That
to happen
there has to be two,
hence, everyone
talks to themselves.
The 'doer'
& the 'done-to'
are both phonies.
A stable mind
does not claim
doership.
You too will be like me
after the nuclear war.