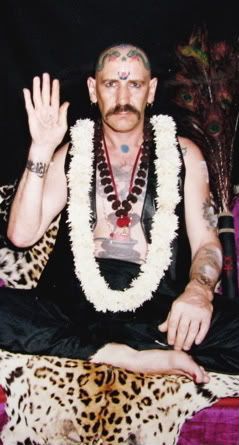 It's the technology
that controls the people.
New technology:more control.
There's synchronicity
in every moment
when you're in tune.
If it's not interesting
I'm not interested.
They broke their own rules
to see me fail; but it backfired.
My loss is my gain.
It's the programming
that stops you having
a direct experience.
To know God
you have to
transcend
Him.
How can you fully know it?
Whatever you've mastered is
no longer interesting;
therefore, one goes deeper.
I AM
the
Prize.

How dare you
walk around,
on two legs,
with no morals?
For where they're at,
monkeys have more morals than man.
Don't expect to
maintain your freedom
if you're in debt.
Why should I
support his
ignorance?
Potential
is in the
here & now.
A psychiatrist once said to me, "How did you get like this?"
I said to him, "Why ask me, ask God. This is what happens when you focus on him all your life. It's call
Divine Madness! God-crazed.

Character manifests
from direct experience,
not watered down by thought.
Character
is
cultivated.