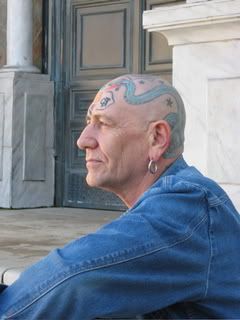 Once you know that
you
are nothing you can image,
what else is there to know?
Collecting knowledge & experiences
is an addiction like many others.
Acquiring knowledge
is not going to
guarantee your
continuation.
The nature of fantasies
keeps on changing.
To find out what you are would take millions & millions of years & that still wouldn't be enough. To find out what you're not takes no time at all. Finding out who & what you are guarantees you a space in the prison of time. To find out
what you're not
is the key that
unlocks
the prison of time.
CONTINUITY
To go beyond belief systems
you have to challenge
your greatest belief;
the belief that you were born.
It renders
all other beliefs
meaningless.
Life
breathes
all
bodies.
Do you think it cares
if yours is no longer available?
One light goes
out in a city &
goes unnoticed.
The most expensive thing you'll across on this Planet is survival. Every man is rich when his survival is at stake. He will dig deep & discover many powers that he never imagined himself to have.
Survival
at all
cost!
As difficult as it is to do the work,
it's more difficult to fight it.
The Golden Rule is;
'The Work has to be worthy.'
Worthy of What?
Worthy of Who?
Worthy of my attention.
Should you ever have a
problem with what I say,
take it up with the Source.
Comments can only
be made on ignorance.
Facts destroy comments &
the 'tators'.
As far as the mind goes,
you are welcome to use it
or lose it but never abuse it.
The relationship with God,
The relationship with oneself,
What's the difference?